Colloquia at the IHT
Every semester, the IHT welcomes numerous national and international speakers from industry and research to present their current research at the Colloquium "Components and Technologies".
Summer Semester 2019
Modular Multilevel Converters for Future Meshed High-Voltage Direct Current Grids
Frau Stefanie Heinig, Department of Electric Power & Energy Systems, School of Electrical Engineering, KTH Royal Institute of Technology, Schweden
Quantum State Preparation and Readout of Phonons
Ass. Prof. Christophe Galland, Laboratory of Quantum & Nano Optics, Ecole Polytechnique Federale de Lausanne (EPFL), Schweiz
Recent Developments in Silicon Spintronics
Dr. Aurélie Spiesser, Research Scientist, Spintronics Research Center, National Institute of Advanced Industrial Science and Technology (AIST), Tsukuba, Ibaraki, Japan
Formation of Nano- and Barrier-Structures in Semiconductors Using Laser Radiation
Dr. Pāvels Onufrijevs, Institut für Technische Physik, Fakultät für Materialwissenschaften und angewandte Chemie, Riga Technical University, Riga, Lettland
Silicon-Based MMICs for Next Generation Active Phased-Array Antennas and FMCW Radar
Dr. Sébastien Chartier, Institut für Robuste Leistungshalbleitersysteme, Universität Stuttgart
Application of Group-IV Epitaxy for Production of Gate-All-Around Transistors
Dr. Andriy Hikavyy, Senior Researcher Epitaxy, IMEC, Leuven, Belgien
Advancements in Physics of Power Semiconductor Devices
Prof. Dr. Ray J. E. Hueting, Integrated Devices and Circuits (IDeaS) group, MESA+ Institute of Nanotechnology, University of Twente, Enschede, Niederlande
Reliability Engineering for Automotive Semiconductor Products
Ulrich Abelein, Division Automotive (IFAG ATV PTP MSF RQ), Infineon Technologies
Photo-induced Inverse Spin-Hall Effect: Electrical Detection of Optically Oriented Spins in Semiconductors
Prof. Dr. Federico Bottegoni, Dipartimento di Fisica, Politecnico di Milano, Mailand, Italien
Si, Ge, Sn, B, Sb, Ga, As – Woher kommen unsere ultrareinen Materialien?
Dr. Jan Freerks Riecken, Senior VP Sales & Marketing, PPM Pure Metals GmbH, Langelsheim
Contact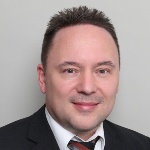 Michael Oehme
Dr.
Academic Senior Counsellor
Vice Director