The IHT and the photonics
The IHT has been involved in the development of active electro-optic devices based on the SiGeSn material system for many years. The main focus here is the integration of all components on Si or SOI substrates for the construction of complete photonic integrated circuits. Based on the IHT component technology, Ge and GeSn photodiodes for the NIR range with cutoff frequencies well above 65 GHz have already been demonstrated. Absorption modulators based on the Franz Keldysh effect can also be realized with these components. Currently, the main focus of research is on an integrated light source made of materials of the IV. Main group. At the IHT, an electrically pumped Ge laser has already been demonstrated on Si. To further increase the efficiency of the light source, the concept of the zener emitter has been developed and its functionality demonstrated.
What other alternatives to the "classical" transmission link are being researched at the IHT?
In addition to the photonic transmission lines, plasmonic enhanced transmission paths, which use so-called surface plasmon polaritons, are being investigated. These transmission paths have in principle sub-100 nm dimensions and therefore represent a possible intermediate stage between a photonic and a metallic connection plane. IHT also investigates the integration of metallic nanoantennas and thus the functionalization of particle plasmons for the plasmonic amplification of active photonic devices such as photodetectors, modulators and light emitters.
Contact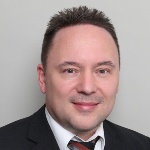 Michael Oehme
Dr.
Academic Senior Counsellor
Vice Director