The IHT and the Group IV heteroepitaxy
The IHT has a long tradition and experience in the field of heteroepitaxy of highly and abruptly doped SiGe:C heterocrystals (Si: Silicon, Ge: Germanium, C: Carbon) and their integration on silicon substrates as well as the production of high-quality and ultra-thin virtual germanium substrates for the direct integration of germanium-based, doped homocrystals on silicon substrate. Recently, research has successfully started on the crystal growth of doped GeSn (Sn: tin) and doped SiGeSn heterocrystals - the last major challenge of Group IV heteroepitaxy - and the generation of virtual GeSn substrates for integration into standard silicon technology. The doping of these crystals takes place at very low deposition temperatures using the elements boron (p-type doping) and antimony (n-type doping) from the III. and V. main group of the periodic table of elements.
In combination with a CMOS cleanroom technology line established at the IHT, Group IV heteroepitaxy enables research in the three central device competence fields: "Advanced MOS" and Bipolar Technology, Photonics and Quantum Electronics.
Why molecular beam epitaxy?
In university research it is advisable to avoid high costs by, for example, state-of-the-art lithography during processing. An alternative, lithography-free approach to the generation of very small device dimensions is found in the concept of vertical device structures, which are produced with the aid of molecular beam epitaxy (MBE). This method enables the perfect (hetero-)epitaxial growth of highly and abruptly doped semiconductor crystals with a control of growth rates in the sub-monolayer range.
Contact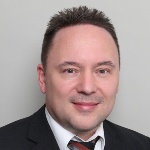 Michael Oehme
Dr.
Academic Senior Counsellor
Vice Director